One of the traditions of the Alvernaz family is the annual wine making festivity that takes place sometime in late August to mid September.
Below: Gina and Christina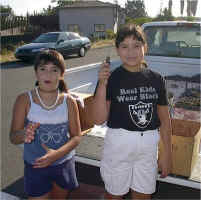 Someone inevitably starts a grape fight before finally heading back to the trucks.

The first couple of weeks in September when the sugar content is at its highest level is the perfect time to make the wine.
Here Michael is getting the crusher ready for the grapes. They'll be transferred here once they're separated from the stems. This is one of the tools constructed by my dad.
The best part of the day takes place in my Dads backyard. After a long days work, we enjoy a meal together with wine from the previous year of course !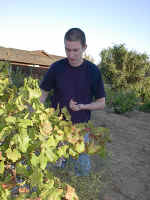 We're out picking the grapes well before 7:00 in the morning.
Below: Jeannie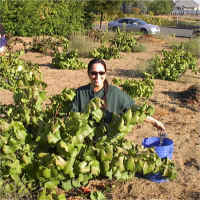 Michael
The spirit is one of family and friends welcoming in the harvest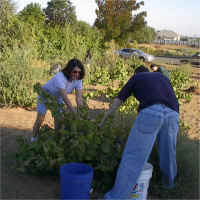 Mary and Michael
Time to Make Wine

One of the traditions of the Alvernaz family is the annual wine making festivity that takes place sometime in late August to mid September. We make about a barrel and a half per season. My dad, Antonio Sr. and I have two 55-gallon barrels each. 2 of them reside in his "adega" (wine cellar), and 2 in mine.

The first couple of weeks in September when the sugar content is at its highest level is the perfect time to make wine. We're out picking grapes well before 7:00 until about mid-morning. A little over a ton of grapes are picked by the bucketful. Someone inevitably starts a grape fight before finally heading back to the trucks where the grapes are transferred from the buckets and placed in boxes and transported back to my dads house in Antioch.

Friends and family have been preparing about 2 to 3 weeks in advance, gathering the wine press, the rollador, the instrument that separates the grapes from the stems, the crusher and so on.

My dad made all of the winemaking tools by hand.

After the stems are separated from the grapes in the Rollador, they're ready to load into the crusher. At this time the grape juice is ready for tasting. It's dark and rich and sweet!

Once the grapes are crushed, they are put into four 55 gallon vats which get pretty much filled up by the time the crush is complete. Next we clean up and eat.

The girls have long been preparing the meal, marinating the meat and preparing the fish.

Everybody enjoys a feast of "vin de alhos", fish, chicken, sweet potatoes or yams, tara root, salads & of course wine from the previous year. Nobody leaves the table hungry.

Once everyone has eaten, we enjoy a few games of 'Pedro'.

Pedro is a

card game similar to "hearts" and very popular in the portuguese community.

Throughout the next week the wine continues to ferment in the vats. The pulp and the skins rise to the top and get mixed back through the crush daily to keep the wine dark.

The following week the wine is drained from the bottom and strained to keep the pulp out before it's distributed into the 55 gallon barrels. Next we take the vats out of the wine cellar and the rest of the skins & pulp are put through the wine press to get the remaining juice that has been fermenting. This is the end of the pressing process.

Making wine has been a tradition in my family for many generations. It is one of the things we enjoy as a family.

Written by Tony Alvernaz - 2001

Pictures courtesy of Michael Farley